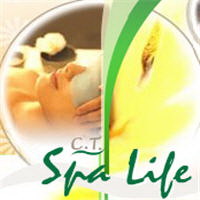 CT Spa Life - The Mall Bangkae
Bangkok
Overview
One of Bangkok's best kept secrets is a little piece of heaven called CT Spa Life. This beautiful and professional, ladies and gentlemen day spa gives you the chance to escape from the hustle and bustle of the big city.
Forget about the stresses of work and family and indulge yourself with one of our great treatments.
Spa Type:
Day Spa
Spa Menu:
Spa Activities:


Relaxation Area


Massage:


Indian massage
Detoxify massage
Thai massage
Oil massage
Treatment:


Body Wrap
Facial treatment


Promotions:
Enjoy 50 hours of authentic spa experience at 50% discount (normally 70,000 Baht) Special price just 35,000 Baht.
Contact Us:
Address:
The Mall Bangkae, Petkasen Rd., Bangkae Nua, Bangkae, Bangkok 10160
Tel:
02-803-8317 ext:
Tel:
02-803-8318 ext:
Tel:
ext:
Fax:
02-803-8318
Email:
info@bangkokspa.net
URL:
http://www.ctspalife.com
Business Hours:
10.00 AM - 08.00 PM
Situated in:
The Mall Bangkae
Popular spots:
Minimum price:
From: THB