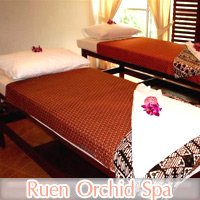 Ruen Orchid Spa
Bangkok
Overview
we are easily accessible just a short distance from all of the main shopping and dining areas. And just a short walk from Lumpini park.

We like to think of our spa as an oasis in the city. Somewhere people can come to rejuvenate, in stylish yet unpretentious surroundings. It is easy to forget you are in Bangkok once inside.

From the moment you enter, the aromatic fragrance of the spa, instantly relaxes you. Whilst a hand picked selection of music will start to sooth you, before you even realise it. Sample all of our products in reception before choosing your treatment.

We only use the best fresh products for our oils scrubs & masks. Our standard of hygene and quality of service is second to none. We are competitvely priced, and do not believe in over charging.

Whether you just visit for a one hour massage, or decide to stay for several hours. We want your visit to be a memorable one. People love our spa because it is quiet and personal.

Spa Type:
Day Spa
Spa Menu:
Massage:


Traditional Thai Massage
Aroma Oil Massage
Foot Massage
Herbal Hot Compress
Head and Shoulder Massage
Thai Herbal Massage
Sports Deep Tissue Massage
Thai facial
Moisturising and Herbal hot compress
Relaxing Facial
Eye Contour refreshing mask
Health and Wellness Massage
Breast Firming and Lifting Massage
Migraine Relief Massage
Back Pain Relief Massage
Hair Spa & Detox


Treatment:


Seaweed Body Cream Scrub
Exfoilating Lufa Cream Scrub
Refreshing Lemongrass Herbal Scrub
Rebalancing Jasmine Rice Scrub
Relaxing stress relieving Flower Remedy Scrub
Seaweed Marine Body Wrap & Mask,Thai Herbal Wrap & Mask
Beauty Treatments
Promotions:
- Thai Herbal Scrub 2 h 15 mins 1600 BHT
- Aroma Scrub 1 h 45 mins 1600 BHT
- Aroma Relaxing 2 h 15 mins 2000 BHT
- Thai Sports Scrub 1 h 45 mins 1650 BHT
- Ruen Orchid Body & Hair Spa 2 h 30 mins 2850 THB
- Orchid Perfection 4 h 4300 THB
- Ruen Orchid Beauty 2 h 45 mins 3750 THB
- Herbal or Milk Flower Bath & Detoxification Bath 30 mins 450 THB

Contact Us:
Address:
101/11 Soi Langsuan
Ploenchit Road
Lumpini,
Pratumwan
10330 Bangkok Thailand
Tel:
02-652-2577 ext:
Tel:
ext:
Tel:
ext:
Fax:
02-652-2558
Email:
orchid_spa_relax@yahoo.com
URL:
http://www.ruen-orchid-spa.com
Business Hours:
10.00 AM - 10.00 PM
Situated in:
Popular spots:
Lumpini park,Soi Langsuan,Nguan Lee Chinese Restaurant,Home Kitchen Thai Restaurant
Minimum price:
From: 300 THB