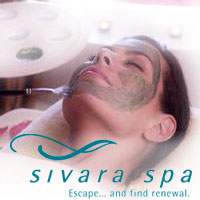 Sivara Spa-Amari Watergate Hotel
Bangkok
Overview
The Sivara Spa at Amari Watergate Hotel offers blissful treatments in a serene environment, right in the heart of the city. Skilled therapists perform soothing treatments and a personalised service in one of eight exclusive treatment rooms. These include three themed double rooms, each of which has signature treatments and can also be used for 'close to you' massages with a partner.

Mystical Forest
Harness the spirit of the forest and mediate on the power of nature. This botanically inspired room features a tropical rain shower to wash away the stress of the day. The refreshing blends of essential oils used for the massages leave you feeling rejuvenated.

Floral Bloom
Drain away tension and revive your spirit with a rose petal bath in this floral paradise. Let the fragrances of flowers cleanse and purify your soul. The ylang ylang, lavender and marjoram essential oils used in the treatments are the ultimate feminine indulgence.

Herbal Inspiration
The medicinal benefits of herbs, nature's gift to mankind, have been known for centuries. Experience the healing qualities of traditional herbal remedies combined with luxurious pampering, including an organic herbal bath and vegetable scrubs and wraps.
Spa Type:
Hotel and Resort Spa
Spa Menu:
Spa Activities:


Salon Services


Massage:


Mind Relaxing Massage
Body Balancing Massage
Stress Release Massage
Balinese Massage
Thai Massage
Oriental Foot Massage
Firming Massage
Treatment:


Facials Treatments
- Nourishing Facial
- Deep Cleansing Facial
- Spirulina Facial
- Facial Treatments with a variety of masks for different skin types
- Soothing Gel Mask for dry and dehydrated skin or skin exposed to Sun
- Deep Cleansing Mask for oily skin
- Vitamin C Mask for mature skin
- Liden Mask for normal to combination skin
- Strawberry Mask for young skin

Body Scrubs
- Herbal Salt Scrub
- Honey Scrub
- Lavender and Apricot Scrub
- Loofah Scrub
- Vegetable Body Scrub
- Royal Lotus Scrub
- Chocolate Scrub
- Wasabi Scrub
Promotions:
Mystical Forest Package 4 h5,500 THB
- Mint footbath
- Wasabi body scrub
- Wasabi body wrap
- 90 minute oil massage
- Herbal tea and fruit platter

Floral Bloom Package 4.30 h 6,000 THB
- Rose footbath
- Royal lotus body scrub
- Royal lotus body wrap
- Aroma milky bath
- 90-minute oil massage

Herbal Inspiration Package 4 h 6,000 THB
- Herbal footbath
- Vegetable body scrub
- Vegetable body wrap
- Herbal crystal bath or Herbal bath soak
- 90-minute oil massage
- Herbal elixir and fruit platter

Manjari Package 90 minutes 3,000 THB
- A choice of body scrub
- A choice of 60-minute oil massage

Varaya Package 90 minutes 3,200 THB
- A choice of body scrub
- A choice of facial treatment

Sarada Package 2 h 3,500 THB
- A choice of 60-minute oil massage
- A choice of facial treatment

Paritra Package 2 and a half h 4,700 THB
- A choice of body scrub
- A choice of body wrap
- A choice of a 60-minute oil massage


Contact Us:
Address:
847 Petchburi Road Bangkok 10400 Thailand
Tel:
02-255-3767 ext:
Tel:
02-255-4588 ext:
Tel:
02653-9000 ext:
Fax:
02-255-3718
Email:
email@sivaraspa.com
URL:
http://www.sivaraspa.com http://www.amari.com/watergate/sivara-spa.aspx
Business Hours:
08.00 AM - 10.00 PM
Situated in:
Amari Watergate Hotel
Popular spots:
Minimum price:
From: THB