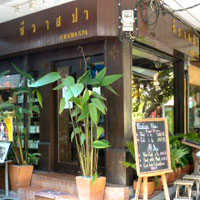 Shewa Spa
Bangkok
Overview
Shewa Spa is a modern beauty and massage salon in the heart of the old center of Bangkok. It started as a small shop and has become a famous place for tourists, farang living and working in Bangkok and of course Thai people.

Since the house next to the original shop was added to Shewa Spa and a lot of rooms were renewed and refurnished, there are lot of customers who like to visit the Spa. Not only for traditional maasage but also treatments like herbal spa, bodywrap and massage of the back/shoulders. There is a group of regular customers, from all over the world, who like to visit us every time when they are in Thailand. That makes us proud and happy. With this homepage we like to inform you about our services.

You can find our shop at Rambuttri Road, a quiet edge of the dynamic district: Banglamphu. Rambuttri road is a street parallel to Khao San Road (the most famous street in Banglamphu, according to some people).

The reception, a room for hairstyling,hair treatment and separate corners with special chairs for foot massage and foot spa are on the first floor(ground floor). Original oil for massage and herbs can be bought at the reception. The beauty shop and rooms where you can enjoy original Thai Massages are upstairs at the second floor. The third floor has some 'spa rooms' with a bath and a sauna and there are rooms for oil massage.
Spa Type:
Day Spa
Spa Menu:
Spa Activities:


Teach the basic principles of massage
Salon Services


Massage:


Traditional Thai massage
Foot Massage (Reflexology)
Oil Massage(Swedish Massage
Hot Herbal Compress Massage
facial massage
Treatment:


infrared light for disinfection
face compress
facial cleaning with herbs
facial care with fresh fruit
aerosol and deep cleaning
herbs pack
skin refreshment with cucumber
nourishing cream
vitamin E treatment
pearl treatment
hair treatment
Promotions:
healthy body treatment
- massage with oil 150 Baht
- cleaning with herbs 250 Baht
- sauna with herbs 200 Baht
- milky bath or mineral water bath 250 Baht
this package deal : almost 25% discount only 700 Baht
Contact Us:
Address:
108/2 Rambuttri Road Banglampu Bangkok 10200 Thailand
Tel:
02-629-0701 ext:
Tel:
02-281-6007 ext:
Tel:
ext:
Fax:
Email:
shewaspa@hotmail.com
URL:
http://www.shewaspa.com
Business Hours:
08.00 AM - 12.00 PM
Situated in:
Popular spots:
Banglamphu
Minimum price:
From: 150 THB