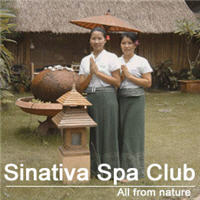 Sinativa Spa
Chiangmai
Overview
The bests of Thai spas in Chiang Mai.
Right in the heart of the City of Chiang Mai, yet in a natural environment, you will find the Sinativa Spa Club ready to relax and pamper you in true Lanna style. "What others cannot offer, we can," says the spa manager. A Day Spa treatment is one of the reasons why 30 percent of yearly visitors are enjoying our Destination Spa here in Chiang Mai, Thailand.
Spa Type:
Day Spa
Spa Menu:
Massage:


Holistic Aroma Massage
Detoxifying massage
Shiatsu Massage
Eastern Head Massage
Lanna Massage
Anti Cellulite Massage
Lanna Traditional Style Massage
Aroma Body Massage
Foot Massage
Body Massage
Ayuveda Head Massage
Swedish Massage
Bust Firming Massage
Treatment:


Deep Cleansing Facial
Herbal body scrub
Herbal steam
Mineral Floral Bath Jacuzzi
Body Scrub
Body Wrap
Foot Treatment
Reflexology
Herbal bath
Spa Body Salt Scrub
Thai Herbal Stream
Sinativa Deep Cleansing Facial
Craniosacral Therapy
Promotions:
Free transportation from your hotel and also back.

Individual choice of service: Discount 20% at our spa.

Free break with fruit juice or tea at our spa.
Contact Us:
Address:
22/1 Nimmanhaemin Road,
Soi 9 T. Suthep A. Muang
Chiangmai Thailand 50200
Tel:
053-217-928 ext:
Tel:
ext:
Tel:
ext:
Fax:
Email:
vital7@csloxinfo.com
URL:
http://www.sinativaspaclub.com
Business Hours:
8:00 AM - 10:00 PM
Situated in:
Popular spots:
Minimum price:
From: 1500 Baht THB