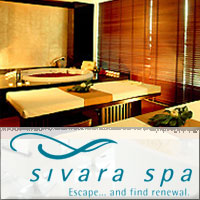 Sivara Spa-Amari Orchid Resort and Tower
Chonburi
Overview
This latest addition to Sivara Spas, found exclusively at selected Amari Hotels and Resorts, Thailand, is situated on the 4th floor of the brand new 5-star Ocean Tower, within the grounds of Amari Orchid Resort and Tower. This spacious Sivara Spa provides extensive spa facilities over 650m2, with single and double treatment rooms, double Thai massage room and an exclusive Sivara suite with jacuzzi and steam room, as well as a Sivara Salon.

Sivara Spa offers an array of blissful and soothing body and facial treatments and packages, while Sivara Salon pays attention to hair and nail needs, with everything from haircuts to waxing to manicures, for men and women. Highly trained and courteous therapists attentively ensure that all the senses are pampered, leaving mind, body and soul refreshed and rejuvenated.

The selection of treatments for you to enjoy include Thai and oil massages, body polishes and wraps, facials, water treatments and classic beauty therapies. There are also a number of packages which combine treatments for full vitality.
Spa Type:
Hotel and Resort Spa
Spa Menu:
Spa Activities:


Salon Services


Massage:


Mind Relaxing Massage
Body Balancing Massage
Stress Release Massage
Balinese Massage
Thai Massage
Oriental Foot Massage
Firming Massage
Treatment:


Facial Treatments
- Nourishing Facial
- Deep Cleansing Facial
- Spirulina Facial
- Facial Treatments with a variety of masks for different skin types
- Soothing Gel Mask for dry and dehydrated skin or skin exposed to Sun
- Deep Cleansing Mask for oily skin
- Vitamin C Mask for mature skin
- Liden Mask for normal to combination skin
- Strawberry Mask for young skin

Body Scrubs
- Herbal Salt Scrub
- Honey Scrub
- Lavender and Apricot Scrub
- Loofah Scrub
- Vegetable Body Scrub
- Royal Lotus Scrub
- Chocolate Scrub
- Wasabi Scrub
Promotions:
Mystical Forest Package 4 h5,500 THB
- Mint footbath
- Wasabi body scrub
- Wasabi body wrap
- 90-minute oil massage
- Herbal tea and fruit platter

Floral Bloom Package 4.30 h 6,000 THB
- Rose footbath
- Royal lotus body scrub
- Royal lotus body wrap
- Aroma milky bath
- 90-minute oil massage

Herbal Inspiration Package 4 h 6,000 THB
- Herbal footbath
- Vegetable body scrub
- Vegetable body wrap
- Herbal crystal bath or Herbal bath soak
- 90-minute oil massage
- Herbal elixir and fruit platter

Manjari Package 90 minutes 3,000 THB
- A choice of body scrub
- A choice of 60-minute oil massage

Varaya Package 90 minutes 3,200 THB
- A choice of body scrub
- A choice of facial treatment

Sarada Package 2 h 3,500 THB
- A choice of 60-minute oil massage
- A choice of facial treatment

Paritra Package 2 and a half h 4,700 THB
- A choice of body scrub
- A choice of body wrap
- A choice of a 60-minute oil massage
Contact Us:
Address:
Pattaya Beach Pattaya 20150 Thailand
Tel:
038-418-418 ext:
Tel:
ext:
Tel:
ext:
Fax:
038-418-410
Email:
email@sivaraspa.com
URL:
http://www.sivaraspa.com http://www.amari.com/orchid/sivara-spa.aspx
Business Hours:
10.00 AM - 10.00 PM
Situated in:
Amari Orchid Resort and Tower
Popular spots:
Mantra Restaurant and Bar,Ocean Tower
Minimum price:
From: THB