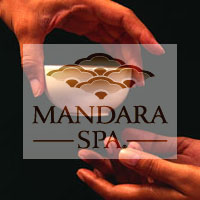 Mandara Spa-Sheraton Karbi
Krabi
Overview
Set in a wooded and secluded 8 hectare site with 500 meter pristine white sand beach, beautiful cliff formations, lush forests, waterfalls and caves of surrounding Krabi, Sheraton Krabi Beach.

Resort encapsulates the best of Mother Nature with its tranquil blue sea and thick verdant forests. The resort's 246 air-conditioned rooms are housed in 3 story buildings laid out in a style resembling a half-moon facing the Andaman Sea. Mandara Spa seats at the middle of the resort 100 meters away from the beach and a few tranquil steps from a very enticing tropical pool. It is built in a secluded site subtly hidden by centuries old trees and carefully preserved tropical faunas, a leisurely 5 minutes walk or short buggy drive from the resort's lobby.

The spa comprises of two double spa suites, two double deluxe rooms, one single room, a room for Thai Massage, a spa boutique and a full service beauty salon. The spa menu offers traditional facials, manicure and pedicure, all-natural body scrubs, exquisite spa combination packages and massage therapies that represent a global fusion of influences from Bali, Thailand, Hawaii, Japan and China.
Spa Type:
Hotel and Resort Spa
Spa Menu:
Spa Activities:


Salon Services
Pool Side Massage


Massage:


Mandara Massage
Balinese Massage
Swedish massage
Aromatherapy Massage
Hot Stone Massage
Deep Tissue "Sports" Massage
Traditional Thai Massage
Pool Side Massage
Ayurvedic Massage
Foot Reflexology
Treatment:


Boday Treatments
- Clay Body Mask
- Thalasso Slimming
- Dead Sea Salt Scrub
- Tropical Body Polish
- Javanese Lulur
- Also Available Balinese Boreh
- Decleor Sculptural Firming Body Treatment
- Decleor Anti-Cellulite Body Treatment
- Salon Treatments
- Thai Herbal Back Treatment
Promotions:
Contact Us:
Address:
155 Moo 2 Nong Thale Muang Krabi 81000 Thailand
Tel:
075-628-000 ext:
Tel:
ext:
Tel:
ext:
Fax:
075-628-028
Email:
ms_shkr@minornet.com
URL:
http://www.mandaraspa.com
Business Hours:
10.00 AM - 10.00 PM
Situated in:
Sheraton Krabi Beach Resort
Popular spots:
Minimum price:
From: THB