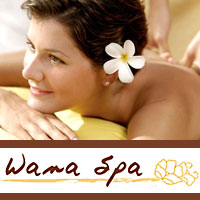 Wana Spa
Krabi
Overview
Most people love to be pampered and Phi Phi Island Village Wana Spa, set in a lush natural tropical setting on the hillside overlooking the islands of the Andaman Sea, is a perfect venue to experience the ultimate indulgence in Spa treatments.

Our Wana Spa specializes in Traditional Thai massage, including facials, body treatments, body scrubs and a wonderful vast array of Spa packages. Features include a beauty salon, private massage therapy pavilion, Jacuzzi bath, sauna and steam room.

Wana Spa harmonious environment offers the visual delights of an ocean view, and the silence paramount in keeping with tradition to the well being for Mind, Body and Soul.
Spa Type:
Hotel and Resort Spa
Spa Menu:
Massage:


Siamese Massage,Arokhaya Massage,Badhuka Massage,Andaman Step Massage
Treatment:


Facial Treatments
- Chandra Facial
- Coconut Queen Facial
- Surya Facial
- Wana Facial
- Mana Facial

Body Treatments
- Surya Soothing Body Wrap
- CoConut Amarita
- Thai Ayurvedic Body Wrap
- Natural Mud Body Wrap

Body Scrub
- Andaman Scrub
- Siamaya Scrub
- Coconut Karya
- Original Thai Scrub
Promotions:
- Thai Bo-Raan Package 120 mins 2,500 THB
- Sidahra Package 120 min 2,900 THB
- Surya Soother Package 120 mins 3,000 THB
- Wanarom Package 120 mins 3,100 THB
- Phi Phi Amarita Package 120 mins 3,250 THB
- Anoma Package 165 mins 4,200 THB
- Arokhaya Villag
Contact Us:
Address:
49 Moo 8 Tambon Ao Nang Koh Phi Phi Krabi Thailand
Tel:
075-628-900-99 ext:
Tel:
ext:
Tel:
ext:
Fax:
Email:
sales@ppisland.com
URL:
http://www.ppisland.com/spa.php
Business Hours:
09.00 AM - 09.00 PM
Situated in:
moonlight-resort
Popular spots:
Minimum price:
From: THB