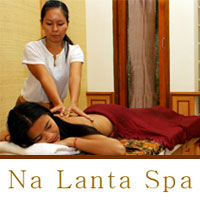 Na Lanta Spa
Krabi
Overview
Na Lanta Spa's diversity in creativity and design reflects the ability to adapt seamlessly to host cultures in surroundings and treatment areas conceived to rejuvenate and revitalize, and to make your Na Lanta Spa visits memorable and enlightening experiences.

Na Lanta Spa therapists take guests on exhilarating sensory journeys, with their special skills and personal care through many forms of holistic healing and sense of well being.

Be in harmony with energy flows and with professionals who guide you through options of body and beauty care, delivering them with serene and reassuring professionalism using products made only from natural ingredients and at one with ecological responsibility.

Experience our luxurious treatment or a relaxing massage in a soothing environment. Na Lanta spa offers a variety of our signature treatments including massage, body exfoliation, facial treatment and spa package.
Spa Type:
Hotel and Resort Spa
Spa Menu:
Massage:


Thai Massage
Foot Spa Massage
Facial Massage
Aroma Therapy Massage
Swedish Massage
Thai herbal hot massage (Herbal bag)
Lomi Lomi Herd
Neck and shoulders
Black sticky rice body scrub
Hot Coconut oil massage
Promotions:
Eternal royal thai 2.30 h 1800 THB
- foot spa massage
- thai massage
- herbal hot massage

Recline foot ritual 2.40 h 2400 THB
- thai herbal stream
- body scrub
- Swedish massage

Thai herbal body treatment 3 h 3500 THB
- thai herbal stream
- body scrub
- herbal mask
- hot coconut

Inlove with na lanta spa 3 h 3200 THB
- thai herbal stream
- body scrub
- aromatic massage
- facial massage
Contact Us:
Address:
69 Moo 8 Ban Klongtob Ko Lanta Yai Lanta Island Krabi 81150 Thailand
Tel:
075-662-590 ext:
Tel:
075-662-591 ext:
Tel:
ext:
Fax:
075-662-594
Email:
info@moonlight-resort.com
URL:
http://www.moonlight-resort.com
Business Hours:
09.00 AM - 09.00 PM
Situated in:
Moonlight Bay Resort
Popular spots:
Klong Khong Beach
Minimum price:
From: THB