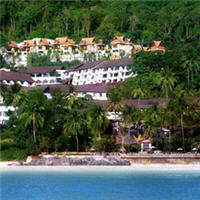 Diamond Spa
Phuket
Overview
Located at the Diamond Cliff Resort and Spa "Grand Wing," in its own private spa complex, is the Diamond Spa. Offering you the ultimate in relaxation and rejuvenation, this is the only full service spa in South East Asia with products and treatments from Jurlique "The Purest skin Care on Earth."
Spa Type:
Hotel and Resort Spa
Spa Menu:
Spa Activities:


Steam
Sauna


Massage:


Thai massage
Oil massage
Sport massage
Swedish massage
Facial massage
Body massage
Aromatherapy massage
Treatment:


Body Wrap
Body treatment
Back treatment
Jet Lag treatment

Promotions:
Contact Us:
Address:
284 Prabaramee Road, Patong Beach, Phuket Thailand 83150.
Tel:
076-340-501 ext:
Tel:
076-340-505 ext:
Tel:
076-340-506 ext:
Fax:
076-340-507
Email:
booking@diamondcliff.com
URL:
http://www.diamondcliff.com
Business Hours:
09.00 AM - 09.00 PM
Situated in:
The Diamond Cliff Resort and Spa
Popular spots:
Patong Beach
Minimum price:
From: 1500 THB