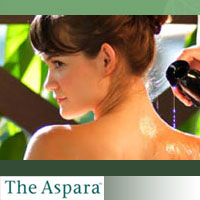 The Aspara
Phuket
Overview
The Aspara At Holiday Inn Resort Phuket
The Best Top 5 Spas in South East Asia

The Aspara Spa at Holdiday Inn Resort Phuket has been Voted by the hospitality industry as being one of the best in the spa induxtry.
During the recent Hospitality Asia Platinum Awards held in Kuala Lumpur on the 28th November 2008, the Aspara Spa is one of the Winners of "The Best Top 5 Spas in South East Asia."

Come. Rejuvenation awaits you at The Aspara @ Holiday Inn Resort Phuket. Discover the ultimate indulgence in pure bliss and tranquility. A Heavenly sanctuary for you to relax, unwind, recharge and rejuvenate.
Pamper yourself and a loved one in the sheer luxury of our Grand Aspara Spa Suite, complete with a private spa pools, relaxation areas and terraces. Immerse yourself in a spa paradise where you are embraced by serenity and luxury. Your complete relaxation is our only aim.
Visit us at The Aspara today. It is an experience that you will return to again and again.
Spa Type:
Hotel and Resort Spa
Spa Menu:
Spa Activities:


Salon Services
Waxing
Sauna


Massage:


Memorable Massages
Traditional Thai Massage
Head,Neck and Shoulder Massage
Soothing Swedish Body Massage
Shiatsu Body Massage
Indonesian Massage
Aspara Aromatherapy Massage
Aroma Meridian Massage
Hot Stones Aroma Massage
Heavenly Bliss 4 Hands Body Massage
Treatment:


Facial Treatments
- Premium Spa Facials
- Divine Spa Facial
- Vitamin Honey Spa Facial

Body Exfoliation
Exfoliation Body Scrubs
- Uplifting Orange Sugar Scrub
- Lovely Lavender
- Body Glow
- Tahitian Body Scrub

Hydrating Body Wraps
- Detoxifying Seaweed Wrap
- Honey Milk Body Mask

Water Therapy
- Dead Sea Minerals Bath
- Fragrant Bath of Flower
- Detoxifying Hydro Massage Bath

Hand and Feet Rituals
- Lovely Hands Treatment
- Heavenly Feet Treatment
- Minty Foot Massage
Promotions:
Spa Packages
- Body Bliss 90 mins 2,200 THB
- Jet Lag Reviver 110 mins 3,200 THB
- Javanese Lulur Package 120 mins 3,200 THB
- Beauty Indulgence 180 mins 4,000 THB
- Top to Toe Spa Pleasures 180 mins 4,200 THB
- After Sun Skin Soother 120 mins 3,800 THB
- Simply Heavenly 225 mins 6,000 THB

Romance Couples's Packages
- Rejuvenate at The Aspara 1.30 h 4,300 THB(Per Couple)
- Tranquility at The Aspara 2h 6,800 THB(Per Couple)
- Harmony at The Aspara 2.30 h 7,500 THB(Per Couple)
Contact Us:
Address:
52 Thaweewong Road Patong Beach Phuket 83150 Thailand
Tel:
076-340-608-9 ext: 8823
Tel:
ext:
Tel:
ext:
Fax:
076-340-435
Email:
spas@cosmoprof.com.sg
URL:
http://aspara.com.sg http://www.holiday.phuket.com/busakorn/spa.htm
Business Hours:
-
Situated in:
Holiday Inn Resort Phuket
Popular spots:
Patong Beach
Minimum price:
From: 750 THB