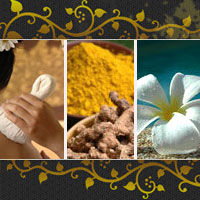 Thai Chakras Spa -Bhukitta Hotel and Spa
Phuket
Overview
All Thai Chakras staff is trained at Sukko Spa Academy, Certified by the Ministry of Education. The training consists of both theoretical and practical skills. Trainees must first successfully complete the mandatory 800-hour course before being chosen to be on the team of therapists. This stringent process of selection ensures a high standard of proficiency. The method of teaching follows Thai traditions: the trainees pay respect and gratitude to "Kru"- the trainers, and as a form of reciprocation, "Kru" share all their knowledge, show kindness and patience while providing expert supervision. The trainees will also receive instruction in morality and meditation in order to understand Thai Chakras's holistic approach to the treatment process.

Spa-ing to balance the energy, colour the senses and sooth the soul.
From glorious morning to tranquil night, Thai Chakras treatments enable guests to experience every essence of happiness through traditional Thai living, living a colourful life.
Spa Type:
Hotel and Resort Spa
Spa Menu:
Spa Activities:


Wellness Program


Massage:


Sukko Thai Ayuravedic Body Massage
Thai Massage
Nuad Thai Boran
Foot Massage
Energetic Hot Herb Traditinal Body Massage
Gaya and Prana Hot Herb Traditinal Body Massage
Amata Hot Herb Traditinal Body Massage
Treatment:


Facial Treatments
- Facial Standard Treatment
- Facial Exclusive Treatment
- Facial Spa Standard Treatment
- Facial Spa Exclusive Treatment

Body Treatments
- Scrub Standard Treatment
- Scrub Bliss
- Scrub Plus Standard Treatment
- Scrub Plus Exclusive Treatment
- Body Wrap Mask Standard Treatment
- Body Wrap Mask Exclusive Treatment
- Bath Standard Treatment
- Bath Exclusive Treatment
- Aromatherapy Standard Treatment
- Aromatherapy Exclusive Treatment
- Steam
- Jacuzzi
Promotions:
Contact Us:
Address:
22, 23, 24, 26, 28 Phang Nga Road Tumbon Talad Yai Amphur Munang Phuket 83000 Thailand
Tel:
076-215-712-3 ext:
Tel:
ext:
Tel:
ext:
Fax:
076-215-718
Email:
branch@sukkospa.com sukko@sukkospa.com rsvn@bhukitta.com
URL:
http://www.sukkospa.com http://www.bhukitta.com/spa.htm
Business Hours:
08.00 AM - 05.00 PM
Situated in:
Bhukitta Hotel and Spa
Popular spots:
Minimum price:
From: THB