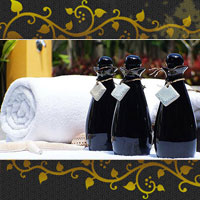 Sukko Spa-Kirikayan Luxury Pool Villas and Spa
Suratthani
Overview
"Kirikayan" is a word means "A dancing hill" our resort has surrounded by peaceful touch of Natures encircled with the mountain where you could have a relaxing moment and make your feeling so special an unforgettable experience.
The professional staffs of the resort will always remind you the fellongs of self freed relaxation from inside out served with the SPA specialist. You will feel passing road of heaven of beauty, health, and therapy by Thai massages, oil massage, treatments, and shower steam. You will get the best service you wished and persuade yourself to spend the rest of your time to stay un here.

Sukko Spa, The only cultural spa in Samui is creatively designed to respond each specific lifestyle with the treatment based on Thai Ayuraveda philosophy and Asian spice in the ambience of timeless era in Srivijaya. At the Kingdom of Sukko, traditional Thai culture has been revived to suit various lifestyles. You will experience time-honored wisdom straight from the pages of history books and relax with life aesthetics and various ways to nourish your happiness.

Sukko Spa @ Kirikayan have 4 private treatment rooms and open massage places to enjoy traditional Thai massages in each private villas.

A luxurious suite is designed for guests who would like to enjoy a private treatment with double bed, Steam, Jacuzzi, and a very secluded private relaxation area.
Spa Type:
Hotel and Resort Spa
Spa Menu:
Spa Activities:


Wellness Program


Massage:


Sukko Thai Ayuravedic Body Massage
Thai Massage
Nuad Thai Boran
Foot Massage
Energetic Hot Herb Traditinal Body Massage
Gaya and Prana Hot Herb Traditinal Body Massage
Amata Hot Herb Traditinal Body Massage
Treatment:


Facial Treatments
- Facial Standard Treatment
- Facial Exclusive Treatment
- Facial Spa Standard Treatment
- Facial Spa Exclusive Treatment

Body Treatments
- Scrub Standard Treatment
- Scrub Bliss
- Scrub Plus Standard Treatment
- Scrub Plus Exclusive Treatment
- Body Wrap Mask Standard Treatment
- Body Wrap Mask Exclusive Treatment
- Bath Standard Treatment
- Bath Exclusive Treatment
- Aromatherapy Standard Treatment
- Aromatherapy Exclusive Treatment
- Steam
- Jacuzzi
Promotions:
Contact Us:
Address:
Maenam Soi 1 Maenam Koh Samui Suratthani 84330 Thailand
Tel:
077- 332-299 ext:
Tel:
ext:
Tel:
ext:
Fax:
077-332-288
Email:
branch@sukkospa.com sukko@sukkospa.com rsvn@kirikayan.com
URL:
http://www.sukkospa.com http://www.kirikayan.com/spa.html
Business Hours:
10.00 AM - 07.00 PM
Situated in:
Koh Samui,Kirikayan Luxury Pool Villas and Spa
Popular spots:
Maenam Pier
Minimum price:
From: THB